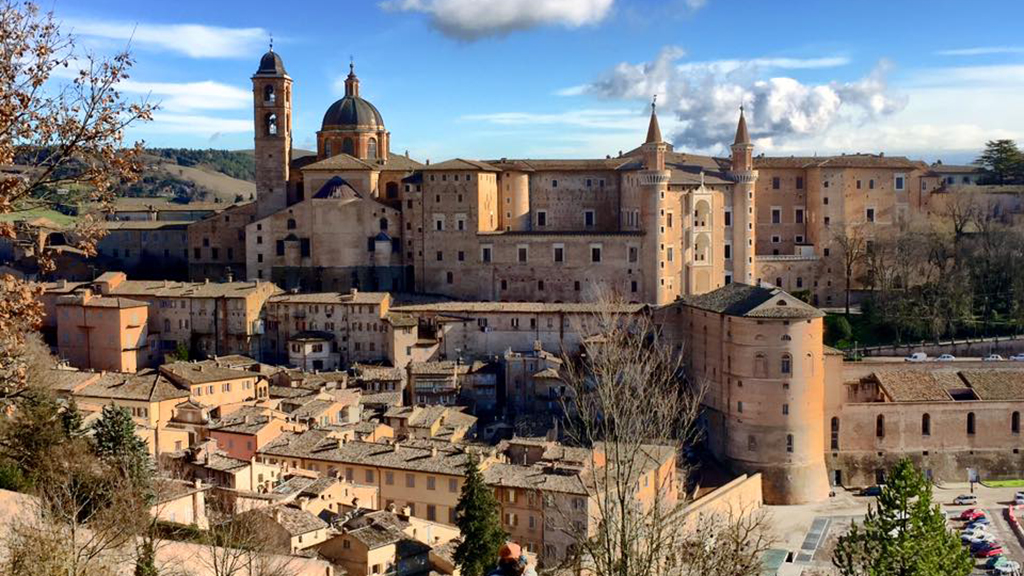 Some of the most important architects of the fifteenth century were called by Federico da Montefeltro to complete the Ducal Palace, including Luciano Laurana and Francesco di Giorgio Martini. To build his Palace, he employed the huge fortunes that he had gained as a great captain of war and skilled diplomat earned from all major Italian states. In accordance with his humanistic education, Federico's intent was to realise a palace that was the very image of himself and of his culture: not a castle, but a civil dwelling, comfortable and able to accommodate a large court. From its turrets on the façade the view is magnificent and define the apartment of the Duke.
The main courtyard, designed by Luciano Laurana, represents the aesthetic ideals of the High Renaissance. The harmony of forms and rhythm, the space and serene brightness, the color play of bricks and stones, all create an environment with proportions based on a human scale.
The wide staircase, which is the first monumental staircase of Italian civil architecture, leads to the duke's apartment now home to the "Galleria Nazionale delle Marche". Here we can admire paintings from the Marche Region and beyond , produced during the period from the '300 to '600. Some are unique masterpieces such as the Flagellation and the Madonna of Senigallia by Piero della Francesca, the portrait of Federico da Montefeltro, showed in all his glory with is heir Guidubaldo, painted around 1474 by Pedro Berruguete, the Muta by Raphael, the Ideal City, and the Desecration of the Host by Paolo Uccello.
Very small, but extraordinary, is the studio of Federico covered with wood inlay that illustrate with perfect perspective cabinets full of books, open drawers and various items left here and there in apparent disorder, a box of sweets, fruit and musical instruments including a lute with a broken string. Above the inlay, under a wonderful coffered ceiling on which appear the insignia of Federico, are found the Illustrious Men, philosophers, poets, scientists and theologians of antiquity and contemporary times according to a vision that conceived all knowledge as harmonious and united.
web site