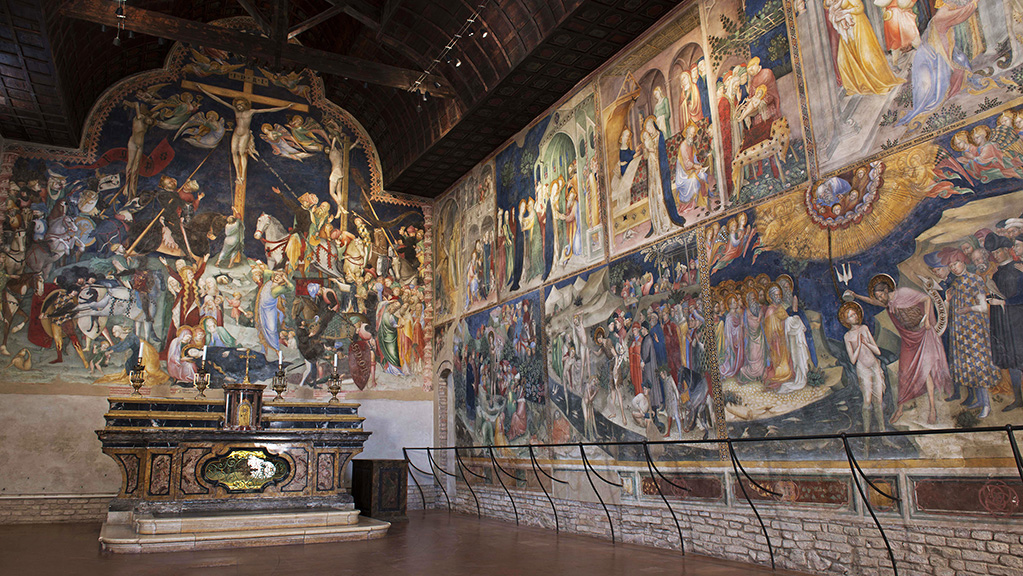 Saint John's Oratory was erected on the remains of an old hospice for pilgrims and ills. It was run by the members of the Confraternity of Saint John and was also related to the presence of the Blessed Pietro Spagnoli, who died there in 1415. The Oratory construction was granted to Finello Ugolini from Urbino in May 25, 1365 by Lateran Chapter and had to be fulfilled by the end of the century, as reported by a Bull conserved in the archive of the Confraternity, dated October 23, 1393. This Oratory was aggregated to the Lateran Basilica in 1599 and to the Order of SS. Trinity in Rome on the 4th March 1651.
The facade of the church, restored in 1900, in Gothic style, was built following the project of Diomede Catalucci from Urbino. In the lunette of the portal appears the Lamb, Holy John's symbol.
In the upper part of the facade two stone panels are applied. The one on the left, bears the "TS" monogram, symbol of St. Anthony's Abbot Confraternity, the one on the right, the umbrella of the Basilica and the keys, symbols of the Lateran Chapter.
The interior is a single room covered with a characteristic wooden ceiling made as a ship's hull. The walls are all painted, mostly by the brothers Lorenzo and Jacopo Salimbeni from San Severino Marche.
The Salimbeni brothers have created a work with a sophisticated narrative, characterized by modern and careful attention to details, which can be caught in the illustrations of events from John the Baptist's life, occupying the entire right side of the church, and in the majestic Crucifixion painted on the wall behind the altar.
The art of the Salimbenis is also admirable in the use of colour and detailed representation of characters and environments. The frescoes of the Salimbeni brothers, continued by contemporary painter Antonio Alberti from Ferrara, are still a real find for those who love art, an extraordinary experience in the Renaissance Capital.
Saint John's Oratory is one of the most important International Gothic Monument of Central Italy.